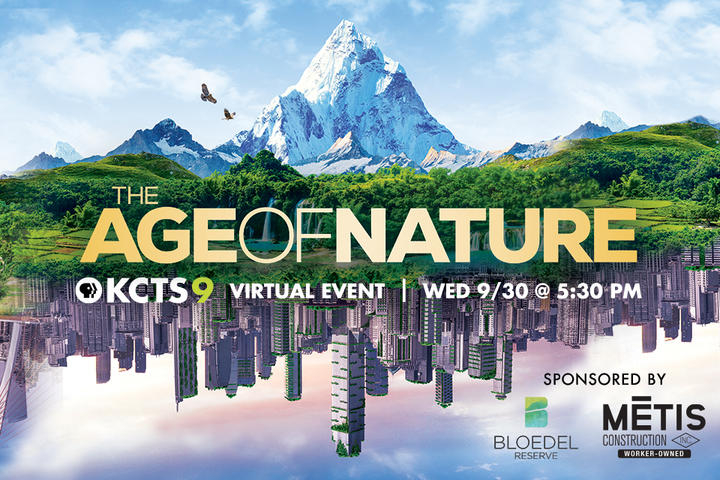 Event Details
Wednesday, September 30 2020
|
5:30 pm - 6:30 pm
Description
**We want to hear from you! What is your favorite memory or experience with nature in the Pacific Northwest? Click here to submit your photos and written memories for use on-air on KCTS 9 and at this event.**
Join KCTS 9 as we (virtually) celebrate the upcoming three-part series The Age of Nature with a panel discussion focused on the place we call home: the Pacific Northwest. Our panel will take a look at nature and the outdoors and how it relates to issues of equity, tribal affairs, sustainability and our lives as Washingtonians. The panel feature includes artist Carol Rashawnna Williams, Representative Debra Lekanoff of the 40th district of WA State, orca researcher Deborah Giles, PhD and Leonard Forsman, Chairman of the Suquamish Tribe. Moderated by Fitz Cahall of the Dirtbag Diaries podcast.
Join us early for music from the Musical Mountaineers while sipping on a drink curated by Sustainable Seattle. Recipe cards will be provided via email in September.
In this region and around the world, there is a rich history of vibrant and active awareness of nature. Indigenous Nations, in particular, have incredible historical and cultural relationships with the land, water and all living beings inhabiting them. It is important to acknowledge that many were forcibly displaced and their roles as caretakers of nature is often overlooked or seen as a practice of the past. However, it is very much alive today and we respect and hold deep gratitude for those who continue to sustain and center a relationship with nature.
Things to know:
This is a virtual event that will be hosted on Zoom.
A link to the event will be included in your confirmation email and also sent out on September 28th. A dial-in number will also be provided for anyone who cannot access this event via the web.
By attending this event you agree to abide by Cascade Public Media's event code of conduct.
About the speakers:
Fitz Cahall (moderator) combined his twin passions for journalism and climbing to create the Dirtbag Diaries podcast, a digital campfire where people could share stories from the natural world. Thirteen years later, The Diaries delivers millions of downloads a year to listeners across the world. When he's not interviewing people, Fitz develops national campaigns to promote conservation and environmental justice efforts through storytelling, social media and film.
Carol Rashawnna Williams was born in Topeka, Kansas into a military family. She lived in Germany until the age of 11, when her family relocated to Tacoma. A graduate of Evergreen State College, Carol resides in Seattle and works to mentor emerging artists from various backgrounds. Carol deeply believes in the power of art to build community, bridge community relationships, and create authentic space for healing. A large body of her work deals with environmentalism, PNW conifers, old growth trees, endangered animals, and climate change.
Representative Debra Lekanoff represents the 40th legislative district of Washington state, which includes parts of Whatcom, Skagit and San Juan counties. She has called the Skagit Valley home for almost 20 years and is a proud mom who fights every day to ensure younger generations can continue to flourish. Representative Lekanoff is the only Native American woman to currently serve in the Legislature. She is Vice Chair of the House Committee on Energy & Environment, sits on the Rural Development, Agriculture & Natural Resources Committee and the Capital Budget Committee. She is also co-chair of the Joint Legislative Taskforce on Water Supply. Representative Lekanoff has also served as Governmental Affairs Director for the Swinomish Tribe. With over 20 years of government relations experience,  she engages on a variety of issues at the international, federal, tribal, state, and local levels.
Deborah Giles, PhD joined Dr. Wasser's whale scat project as the vessel Captain in 2009 – which utilizes a scat detection dog/handler team to locate floating killer whale and baleen whale scat to monitor the physiological health of whales in the Salish Sea. In 2018, Giles was excited to move to the front of the boat and learn how to be a dog handler for the project with her canine companion Eba who became the newest member of the Conservation Canine's Dog Team; check out Eba's Instagram and Facebook accounts – Eba the Whale Dog! Giles received her PhD from the University of California Davis in 2014. Her master's thesis and PhD dissertation both focused on the federally listed southern resident killer whales. Formerly the research director at the Center for Whale Research, she is currently a resident scientist and lecturer at the University of Washington's Friday Harbor Labs, where she teaches Marine Mammals of the Salish Sea and Marine Biology. Giles is also the science and research director with the volunteer non-profit Wild Orca and she is the killer whale scientific adviser for the Orca Salmon Alliance, a program advisor for Killer Whale Tales, and is on the Steering Committee for the Salish Sea Ecosystem Advocates (SalishSEA).
Leonard Forsman is Chairman of the Suquamish Tribe, a position he has held since 2005. As Tribal Chairman, Forsman serves as the chief executive officer of the federally recognized sovereign tribe and leads the government's seven-member Tribal Council. In 2017, Forsman was elected President of the Affiliated Tribes of Northwest Indians, which represents 57 Northwest tribal governments from Oregon, Idaho, Washington, southeast Alaska, Northern California, and Western Montana. In 2013, President Obama appointed Chairman Forsman to the Advisory Council on Historic Preservation (ACHP); he recently completed his tenure on the ACHP. More recently, he served on Governor Inslee's Southern Resident Orca Task Force. Chairman Forsman was formerly director of the Suquamish Museum, a Research Archaeologist at Larson Anthropological and Archaeological Services, and a Consultant at King County Arts Commission. Forsman holds a B.A. from the University of Washington and an M.A. from Goucher College. The Suquamish people continue to live in the Puget Sound area as they have for thousands of years. Among their historic leaders are Chief Seattle and Chief Kitsap. The name Suquamish comes from the Lushootseed term for the "People of the Clear Saltwater.