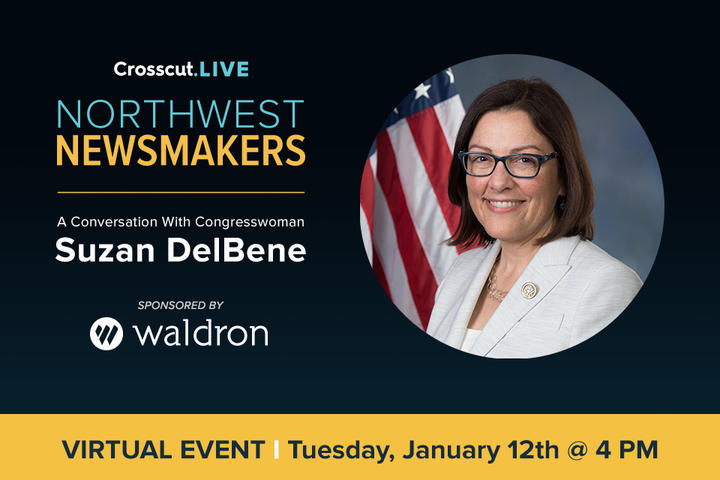 Event Details
Tuesday, January 12 2021
|
4:00 pm - 4:50 pm
Description
**Please note: a link to the virtual event will be sent out via email on January 10th**
Can the center hold? A new Congress convenes in January, with the Democrats in control of the White House, but holding only a slim margin in the house. If they hope to advance legislation, the centrist and progressive wings of the Democratic Party will have to find common ground, with each other, and with their Republican counterparts. We'll hear from Washington Congresswoman Suzan DelBene, the newly elected leader of the New Democrat Coalition, the centrist wing of the party, about how she expects to set priorities and try to get things done.
About the speakers:
Congresswoman Suzan DelBene represents Washington's First Congressional District, which spans from northeast King County to the Canadian border, and includes parts of King, Snohomish, Skagit and Whatcom counties. Suzan takes on a wide range of challenges both in Congress and in the First District and is a leader on issues of technology, health and agriculture. She currently serves on the House Ways and Means Committee, which is at the forefront of debate on taxes, healthcare and retirement security. There, Suzan is working to ensure all Americans have meaningful access to affordable, quality healthcare. She serves on the Select Revenue Measures, Trade, and Oversight Subcommittees. Before being elected to Congress, Suzan served as Director of the Washington State Department of Revenue. During her tenure, Suzan proposed reforms to cut red tape for small businesses. She also enacted an innovative tax amnesty program that generated $345 million to help close the state's budget gap, while easing the burden on small businesses. Suzan and her husband, Kurt DelBene, have two children, Becca and Zach, and a dog named Reily.
Monica Guzman is the host of Crosscut's Northwest Newsmakers series. She is the co-founder of The Evergrey, is a recent fellow at the Henry M. Jackson Foundation and Harvard's Nieman Foundation for Journalism and is a former columnist at The Seattle Times and GeekWire. She is currently an advisor to Braver Angels and the author of an upcoming guide to staying curious in divided times. She lives in Seattle with her husband, Jason, and two kids.
Thank you to our Northwest Newsmakers series sponsor Waldron.
Waldron is proud to sponsor Crosscut, a forum for dialogue that increases knowledge, understanding and compassion. We support independent public media that informs and inspires our community. Click here to learn more.