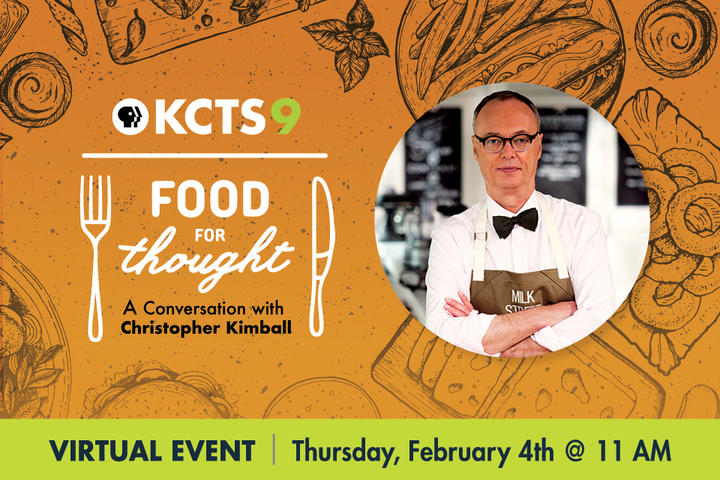 Event Details
Thursday, February 4 2021
|
11:00 am - 12:00 pm
Description
Join KCTS 9 on February 4th for a tasty talk with Christopher Kimball, James Beard Award-winning host of Christopher Kimball's Milk Street. We will discuss how food can help bridge cultural divides, comfort foods and their role in the COVID 19 pandemic and, of course, our favorite recipes and what they mean to us. Tickets are free but an RSVP is required.
Have a question for Christopher Kimball? Enter yours during check out and we may ask it during the event!
About the speakers:
Rachel Belle is an award-winning radio feature reporter and on-air personality at Seattle's KIRO Radio. She hosts and co-produces Your Last Meal, a James Beard Award finalist for Best Food Podcast, that has featured stars like Greta Gerwig, John Waters and Sir Mix A Lot. She has written about food for publications like Lucky Peach and Eater, been a "taco expert" on the Cooking Channel and was named "Best FM Radio Personality" by Seattle Weekly. Her relatives claim to have invented both the bagel dog and the tube top.
Christopher Kimball is the founder of Christopher Kimball's Milk Street and the host of Milk Street Television. He is also the host of Christopher Kimball's Milk Street Radio, a weekly public radio show and podcast. He founded Cook's Magazine in 1980 and served as publisher and editorial director through1989. In 1993, he relaunched Cook's Magazine as Cook's Illustrated and went on to found and host America's Test Kitchen and Cook's Country television. Christopher is the author of several books, including "The Cook's Bible," "The Dessert Bible," "The Yellow Farmhouse Cookbook," "Dear Charlie" and, most recently, "Fannie's Last Supper."