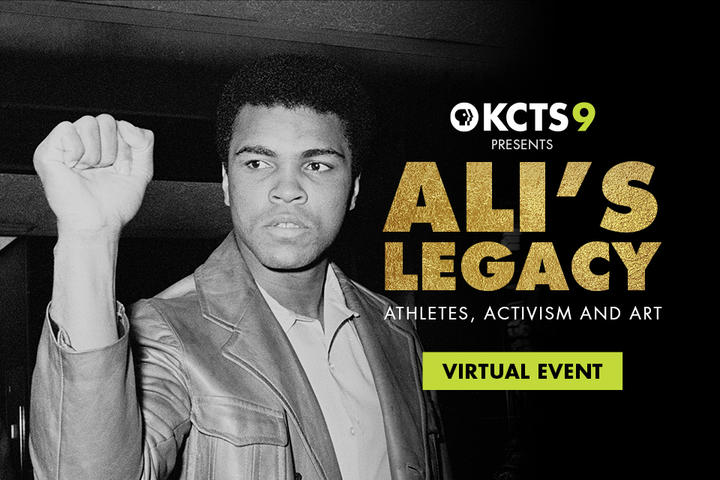 Event Details
Thursday, September 23 2021
|
6:30 pm - 8:00 pm
Description
Join KCTS 9 to celebrate the release of the new Ken Burns Muhammad Ali documentary. The legendary boxer is known for his unwavering commitment to his beliefs, even when he knew it could end his career. Today's athletes follow in his footsteps when taking a stand for causes close to their hearts. We'll explore the topic of athletes and activism through conversation, art, film clips and a boxing workout demo! Learn about and engage in activism with community partners, plus a chance to purchase a limited edition print of artwork featuring Ali by artist Keegan Hall, with proceeds benefiting local organizations who do work that aligns with Ali's principles. 
Speakers include Michael Bentt, Suzanne Potts, Imraan Siddiqi, Mike Bethea, and Joshua Ford. Moderated by Art Thiel.
There will be an audience Q&A segment, so submit yours for consideration in the check-out process when you reserve your ticket. We'll also incorporate questions submitted during the event.
Additionally, one of our community partners for the event, Cappy's Gym, is giving away a gym membership, hand wraps and gloves to one lucky winner. If you'd like to be entered, please select "yes" when prompted during the checkout process.
This event will be virtual. The link to join will be sent in your confirmation email after registration and again in an email the day prior to the event.
Closed captioning will be available.
About the speakers:
Art Thiel, Moderator
Never having met a metaphor he could not twist beyond recognition, Art has been illuminating, agitating, amusing and annoying Puget Sound sports readers for a long time. Along with Steve Rudman, he co-founded Sports Press Northwest. Thiel and Rudman labored under the Seattle Post-Intelligencer globe until the print edition died an undeserved death in March, 2009. Art continued on at its online successor seattlepi.com while working on SPNW's creation. His radio commentaries can be heard Friday and Saturday mornings and Friday afternoon on KPLU-FM 88.9. In 2003 he wrote the definitive book about the Seattle Mariners, Out of Left Field, which became a regional bestseller. In 2009, along with Rudman and KJR 950 afternoon host Mike Gastineau, Thiel authored The Great Book of Seattle Sports Lists. A graduate of Pacific Lutheran University as well as two dead papers and a live one, the News Tribune of Tacoma, he has become a fan of entrepreneurial online journalism because it allows him to continue a lifelong passion to take the English language to places it rarely visits willingly, and does not involve the cleaning of kennels or stables.
Michael Bentt is a former WBO world heavyweight boxing champion, winner of four New York City Golden Gloves titles and five U.S. Amateur titles, and former captain of the US National Boxing team. After retiring from boxing in 1994, Bentt studied journalism and acting at Northampton College in PA where he wrote for the campus newspaper. His work would eventually appear in the New York Daily News and on the HBO Boxing website. A few years later, Bentt played Charles 'Sonny' Liston in Michael Mann's 2001 film, Ali and also served as the chief sparring partner and assistant trainer for Will Smith. Bentt has instructed numerous other celebrities on the virtues and benefits of being 'fighting fit'. In 2019, Bentt was the subject of the premier episode of "Losers," an eight-episode docu-series that brings context and humanity to failure in and around sports. Bentt's episode explores his turbulent life and out of the ring. He is also an interviewee in the Ken Burns Muhammad Ali documentary.
Imraan Siddiqi is an advocate, nonprofit leader and prominent voice for justice in the American Muslim community. Throughout his career, which has spanned the corporate, entrepreneurial and nonprofit worlds, he has written and spoken extensively on the subjects of Islamophobia and issues impacting American Muslims. In 2011, Imraan joined the CAIR-Arizona Board of Directors and in 2015 became the Executive Director of CAIR-AZ. Imraan has been a leading voice in the age of social media, starting the #NoBanNoWall campaign, and has led many nationally and globally recognized social media campaigns. He holds an MBA from Arizona State University's W.P. Carey School of Business and a Bachelors in Marketing from the University of Texas-Arlington. Outside of work, Imraan enjoys the outdoors, hiking and traveling with his wife and three sons.
Joshua Ford is a co-founder of the Athletic Justice Collective (AJC), a group of Seattle sports professionals organizing around social justice. Joshua has been on staff with Sounders FC as an Academy and USL goalkeeping coach since 2016, after spending four seasons with the club as a player from 2011-2014. He also spent time as a player with Orlando City SC, in addition to the Orange County Blues, Fort Lauderdale Strikers and San Antonio SC. Joshua had a standout career at the University of Connecticut, where he was named 2010 Big East Goalkeeper of the Year and set career records in shutouts, wins and consecutive starts.
Mike Bethea is the highly respected head basketball coach at Seattle's infamous Rainier Beach High School, a national basketball powerhouse he built during his 27 year tenure. Coach Bethea is known for player development and instilling high character in his players on and off the court. Under his tenure, he holds the record for 8 state championships and is consistently ranked as one of the top teams in the country. He has developed many All-State athletes and helped over 177 African American players obtain athletic scholarships; more than all high school basketball programs combined in the state of Washington. His basketball players have had tremendous success as he has produced several NBA players and countless D1 collegiate scholarship athletes. He accredits this work to his Lord and Savior Jesus Christ as it is a ministry for him. Michael resides with his lovely wife, Virginia, in Renton, WA and has a blended family of 6 children and grandchildren.
Suzanne Potts is the National Director of Athletes For Hope (AFH) University. The AFH University program educates college athletes about smart philanthropy and connects them to charitable opportunities across various communities. Suzanne was most recently the Executive Director for the Autism Society of Texas. She serves as an Adjunct Associate Professor at the University of Texas, Austin School of Social Work and is Faculty at the George Washington University Sports Philanthropy Executive Certificate Program. Suzanne is a graduate of San Diego State University with an undergraduate degree in Psychology. She also received dual Masters in Social Work and Masters in Public Health with an emphasis on Maternal and Child Health and is a Licensed Masters Social Worker.
About artist Keegan Hall:
Russell Wilson called Keegan Hall "one of the greatest artists in the world" and NBC Sports called his drawing of Michael Jordan "the GOAT of all drawings." Keegan returned to art a few years ago following the unexpected passing of his mother. Since then, his art has raised over $550,000 for charity while working with some of the biggest athletes and celebrities in the world including Russell Wilson, Ciara, Gary Payton, Eddie Vedder, Macklemore, and many more. Additionally, his story has been featured in national media outlets including the Today Show, The Kelly Clarkson Show, USA Today and many others, and he even created an original drawing for President Barack Obama. Learn more about Keegan's artwork at KeeganHall.com. Order your Muhammad Ali print signed by Keegan HERE.