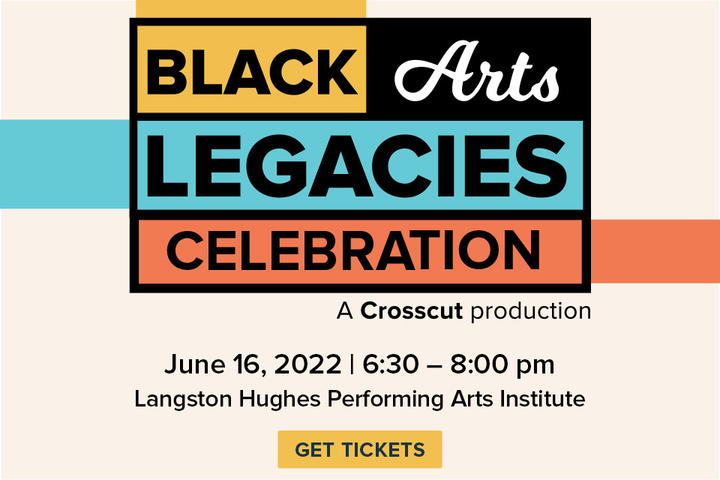 Event Details
6:30 pm - 8:00 pm
Langston Hughes Performing Arts Institute, 104 17th Ave S, Seattle, WA, US, 98144
Description
Join Crosscut for a celebratory social event featuring several of the artists* recognized as a part of Crosscut's Black Arts Legacies project. Enjoy catered bites and drinks** while listening to the music selections of Black musicians, JusMoni and DJ Yaddy of Sway and Swoon DJ Collective.
This event also kicks off LANGSTON'S annual We Out Here festival, June 16-18.
Black Arts Legacies, supported by the City of Seattle Office of Arts & Culture, is an evolving digital archive showcasing the Black arts ecosystem, across time and genres, and within the larger context of cultural movements in the region. It highlights the vital role Black artists have played and continue to play in the Northwest cultural landscape. For more information about the Black Arts Legacies project, visit Crosscut.com/black-arts-legacies.
We strive to host inclusive, accessible events that enable all individuals, including individuals with disabilities, to engage fully. To be respectful of those with allergies and environmental sensitivities, we ask that you please refrain from wearing strong fragrances. To request an accommodation or for inquiries about accessibility, please contact Cathryn Burby at cburby@kcts9.org or (206) 443-5476.
All event attendees are expected to abide by Cascade Public Media's Event Code of Conduct.
*Artists will be announced on June 1, the official launch date of the Black Arts Legacies project and the unveiling of the Black Arts Legacies multi-media website.
**Complimentary non- alcoholic beverages and cash bar for beer and wine (21+). A current driver's license will be requested by bartending staff for proof of ID. Passports will not be accepted.
Thank you to our sponsors and community partners for this event: