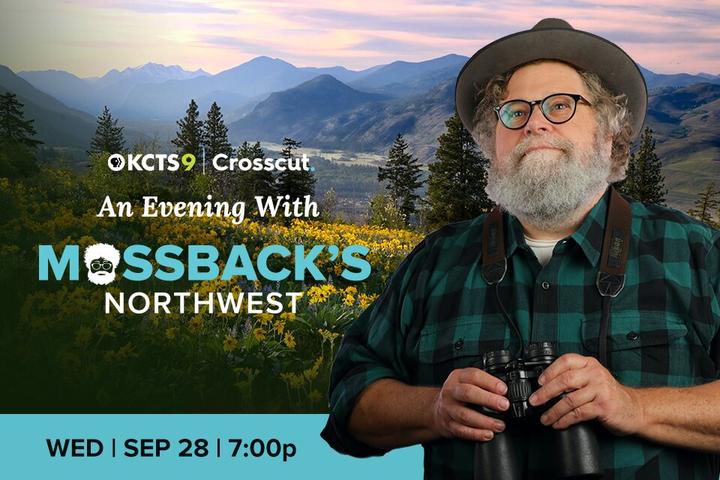 Event Details
Wednesday, September 28 2022
|
7:00 pm - 8:00 pm
Cascade Public Media, 401 Mercer Street, Seattle, WA, US, 98109
Description
*HYBRID EVENT*
Join Knute "Mossback" Berger and Mossback podcast host Sara Bernard for an evening celebrating the new season of Mossback's Northwest! Hear from Mossback himself about what this season has in store.
In-person attendance is limited to KCTS 9 and Crosscut members only, virtual attendance is free with an RSVP. 
MEMBERS-ONLY RECEPTION AND IN-PERSON PROGRAM
Free for members at the $120/year or $10/month level
Enjoy Pacific Northwest-themed bites, signature cocktails, raffle prizes and more at our in-person, members-only pre-reception, Not a member but interested in attending in-person? Sign up on the ticketing page today!
5:30 PM - 7:00 PM
VIRTUAL PROGRAM
Free and open to the public
7:00 PM 
ABOUT THE SPEAKERS:
Knute "Mossback" Berger is Crosscut's Editor-at-Large and host of the Mossback's Northwest TV series on KCTS 9. He writes about politics and regional heritage. Previously he served as Editor-in-Chief of Seattle Weekly, Editor & Publisher of Eastsideweek, and as Managing Editor of Washington Magazine. He has written two books, "Pugetopolis" and "Space Needle, Spirit of Seattle." He is a regular commentator on KUOW-FM and a former Rainier Club Fellow. 

Sara Bernard is Crosscut's podcast producer and host of This Changes Everything. A former staff writer for Seattle Weekly and producer of the Seattleland podcast, she's written and produced stories for Grist, KUOW, and the Atlantic, among other outlets. 
Thank you to our sponsors: