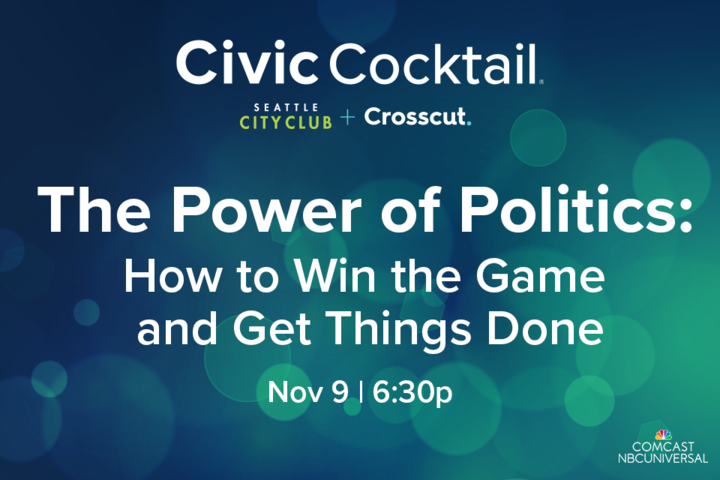 Event Details
Wednesday, November 9 2022
|
6:30 pm - 8:00 pm
Available Online via Eventbrite
Description
Civic Cocktail offers a lively look at big events and important issues facing the Puget Sound region.
To win elections and get things done requires political maneuvering from inside and out of the seats of power. Just after a critical midterm election, leaders and political consultants from both sides of the aisle join Civic Cocktail to talk about how Democrats and Republicans play the political game and what it takes to win. Elected officials describe what it's like to run a race and govern in these turbulent times - and how our democracy might survive (and thrive) despite our differences.
Panelists
Segment 1 - Local elected officials reflect on running for office and governing
Segment 2 - Political consultants discuss Democratic and Republican campaign strategies
Crysal Fincher, Democratic Political Consultant, Founder & Principal at Fincher Consulting, LLC
Alex Hays, Republican Political Consultant, Principal at AB HAYS
Moderator

About Civic Cocktail
Civic Cocktail connects elected and community leaders with the public for lively conversations about important issues facing our region. Whether you're new to the Pacific Northwest, a self-described "civic nerd," or looking to meet people engaged in their communities, your evening at this beloved program is sure to be friendly, fun, and fascinating. Civic Cocktail's welcoming and conversational tone is inspired by our Dialogue Across Differences initiative. 
More Event Information
Attendees will be able to submit questions to the panelists at the time of the virtual event, as well as at the time of ticket purchase via Eventbrite.
About Seattle CityClub
Seattle CityClub is a 40-year-old nonpartisan, civics-focused nonprofit, providing a platform for insightful and educational conversations that include a diverse range of perspectives.
About Crosscut
Crosscut.com is a nonprofit, publicly supported newsroom. It is part of Cascade Public Media, which also owns and operates KCTS 9, Seattle's PBS station. Cascade Public Media serves the Pacific Northwest and its mission is to inspire a smarter world by committing to exceptional public television programming and local public interest journalism.
Special thanks to Civic Cocktail's Title Partner Comcast.
Thank you to our Civic Cocktail partners: