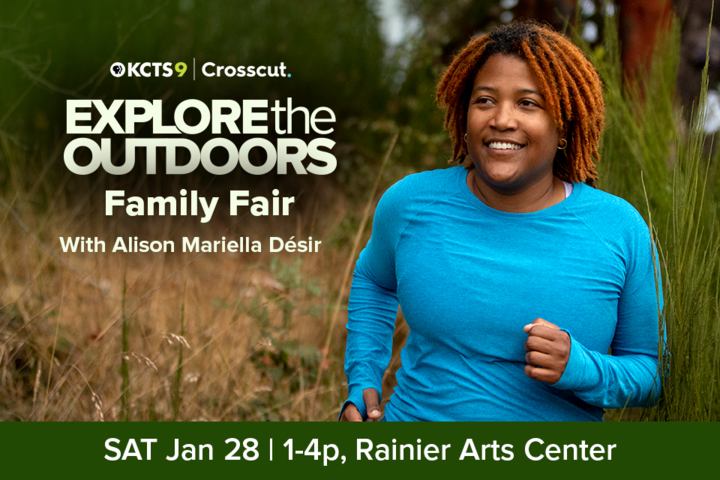 Event Details
Saturday, January 28 2023
|
1:00 pm - 4:00 pm
Rainier Arts Center, 3515 South Alaska ST, Seattle, WA, US, 98118
Description
Join Alison Mariella Désir and a host of local organizations to learn more about getting active outdoors at this family-friendly community event. There will be interactive tables, adventure gear giveaways, and mini workshops for people of all ages to find out about the opportunities to engage with nature and the organizations advocating for BIPOC reclamation of outdoor spaces. You'll also be able to watch clips from Crosscut's "Out & Back with Alison Mariella Désir" series and hear from several of the people and organizations featured about their work and their experience filming the show.
You're also invited to join Alison as well as Ashley & David from Club Seattle Runners Division (featured in the series) for a walk/run around Columbia Park before the event at 12:00 pm. All ages and abilities are welcome.
Participating organizations & individuals include:
Mini-Workshop & Panel Schedule:
12pm - Run with Alison Mariella Désir hosted by CSRD
1pm - Doors to Family Fair
Including gear exploration, face painting, book signing with Alison, and resource sharing
1:30pm - Gearing Up for Winter with CSRD and Fleet Feet
Come learn from Fleet Feet and CSRD about how to find a great shoe for running and walking, how to gear up to be warm and visible, and how to stay safe while running and walking in the dark. Our goal is to help you feel comfortable and keep you moving all year long!
2:10pm - Stretching for Strength with Coach Lenny and Odessa Brown Seattle Children's Clinic
2:30pm - No Trace Awareness Workshop with Jas of QPOC Hikers and Ascent Outdoors
3pm - Reclaiming the Outdoors: Inspiring the Next Generation & Family Adventuring
Featuring Alison Mariella Désir, Ray Williams, Managing Director of Black Farmers Collective, and Denice Rochelle, Founder/Director, The Bronze Chapter
3:35pm - Out & Back: Behind the Scenes
Featuring Alison Mariella Désir, Amir Armstrong of Deadstock Run Club, Doc Wilson of Peace Peloton, and Rosalie Fish.
Please see information about the venue, including directions, parking, transit, and the COVID policies here.
Should you need any specific accommodations to attend, please email aodowd@kcts9.org.
This is a family-friendly event and we encourage the next generation of outdoor explorers to attend. Anyone under 18 should be accompanied by a parent or guardian at all times.