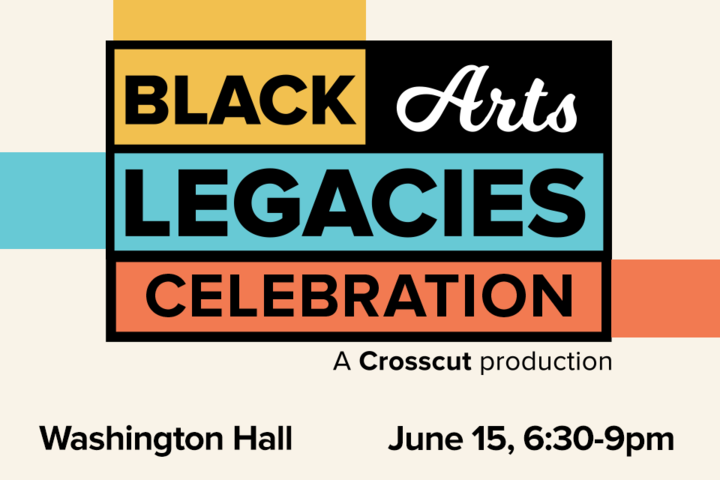 Event Details
6:30 pm - 9:00 pm
Washington Hall, 153 14th Ave, Seattle, WA, US, 98122
Description
Join Crosscut for its second year of celebrating local Black artists featured in Crosscut's Black Arts Legacies project. The evening will include a performance by singer/songwriter Tiffany Wilson, poetry readings by Jourdan Imani Keith and Quenton Baker, catered bites by That Brown Girl Cooks, with beverages, a beer and wine cash bar, giveaways and a portrait gallery of Black Arts Legacies artists.
Black Arts Legacies is an evolving digital archive showcasing the Black arts ecosystem, across time and genres, and within the larger context of cultural movements in the region. It highlights the vital role Black artists have played and continue to play in the Northwest cultural landscape. For more information about the Black Arts Legacies project, visit BlackArtsLegacies.com.
We strive to host inclusive, accessible events that enable all individuals, including individuals with disabilities, to engage fully. To be respectful of those with allergies and environmental sensitivities, we ask that you please refrain from wearing strong fragrances. To request an accommodation or for inquiries about accessibility, please contact Cathryn Burby at cburby@kcts9.org or (206) 443-5476.
All event attendees are expected to abide by Cascade Public Media's Event Code of Conduct.
*Complimentary non- alcoholic beverages and cash bar for beer and wine (21+). A current driver's license will be requested by bartending staff for proof of ID. Passports will not be accepted.
Thank you to all of our event sponsors and supporters!