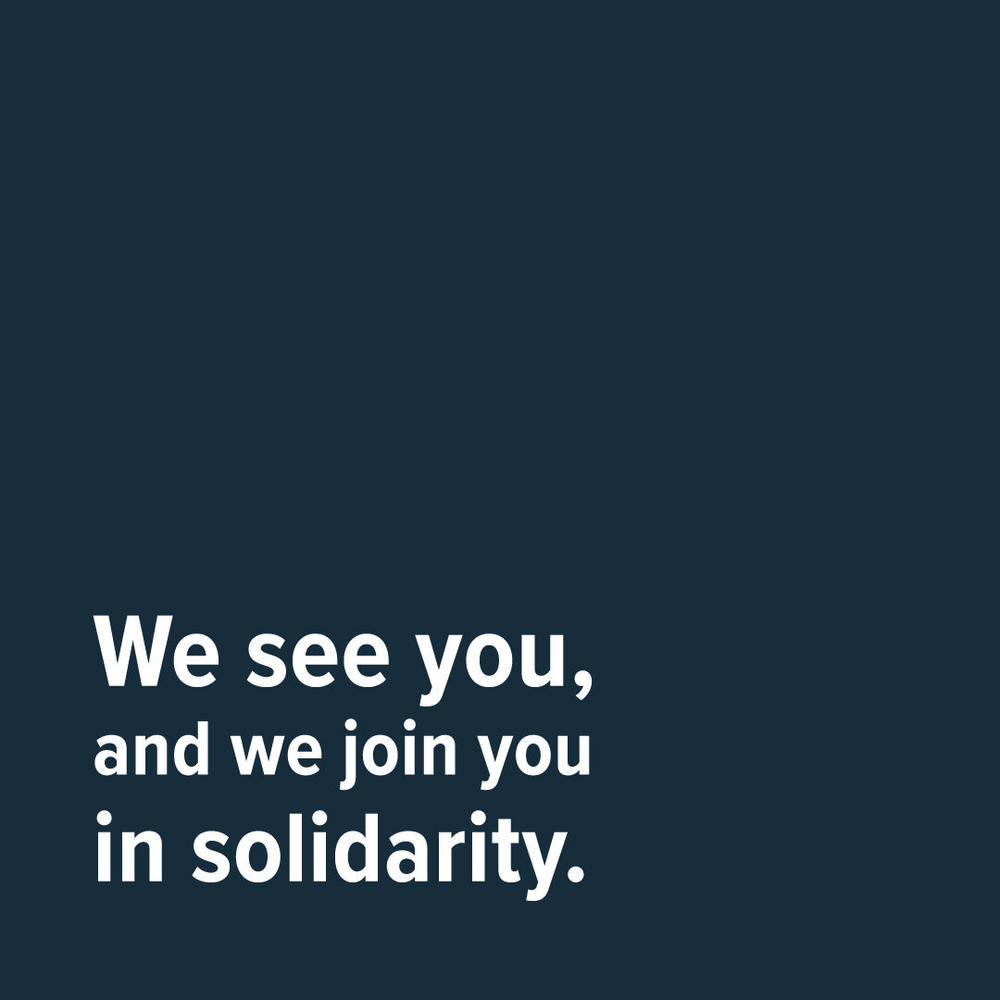 Cascade Public Media Statement on Racism
To our Black neighbors and neighbors of color living with systemic racism: WE SEE YOU.
To the protestors who march for change: WE SEE YOU.
To parents and families struggling to explain tragic events to little ones: WE SEE YOU.
To community members who come out to help clean up: WE SEE YOU.
To everyone feeling broken and devastated: WE SEE YOU.
As the tragic events of the past weeks weigh heavily on our hearts, we mourn the death of George Floyd along with too many Black Americans including Manuel Ellis, Ahmaud Arbery, Breonna Taylor, Oscar Grant, Eric Garner, Charleena Lyles, Trayvon Martin, Michael Brown, Emmett Till, Martin Luther King, Jr. and others whose names we may never know. We are deeply troubled by racism, inequality and injustice, both around the country and in our own community. Racial injustice is as old as the founding of our nation. It continues to this day, and it is wrong.
As we navigate these challenging times together, Cascade Public Media remains committed to the fundamental objective of public media: to expand understanding, report on the inequities and injustices of our community, and serve our neighbors through Crosscut's public-interest journalism, educational programming on KCTS 9, and civic events.
Our Diversity Commitment includes:
Providing programming and events that reflect the diversity of our community
Fostering a culture that encourages collaboration, flexibility and inclusion to enable all employees to contribute to their potential and increase retention
Identifying and addressing systemic barriers to full inclusion by embedding diversity and inclusion in policies and practices
Recruiting and retaining qualified, diverse team members and board directors that reflect the statistical makeup of the population of the community we serve
Applying strong diversity, equity and inclusion practices in Board of Directors' perspectives and in all governance activities through ongoing education, training, deliberate deliberation and decision-making in support of the operating leadership, organization and community
We are supporting our team members by:
On-going DEI training and focus with staff and Board
Evaluating recruitment and hiring processes
Revisiting and revising policies
Providing counseling services and time off for reflection and self-care
Engaging in difficult conversations
Convening leadership meetings
While we have several Diversity, Equity, and Inclusion initiatives we are working on as an organization, we are aware that we must actively challenge ourselves to do more to ensure an anti-racist workplace.
We welcome your input and thoughts. It is our hope that community members will provide feedback as we seek to strengthen our organization in service of the communities we serve.